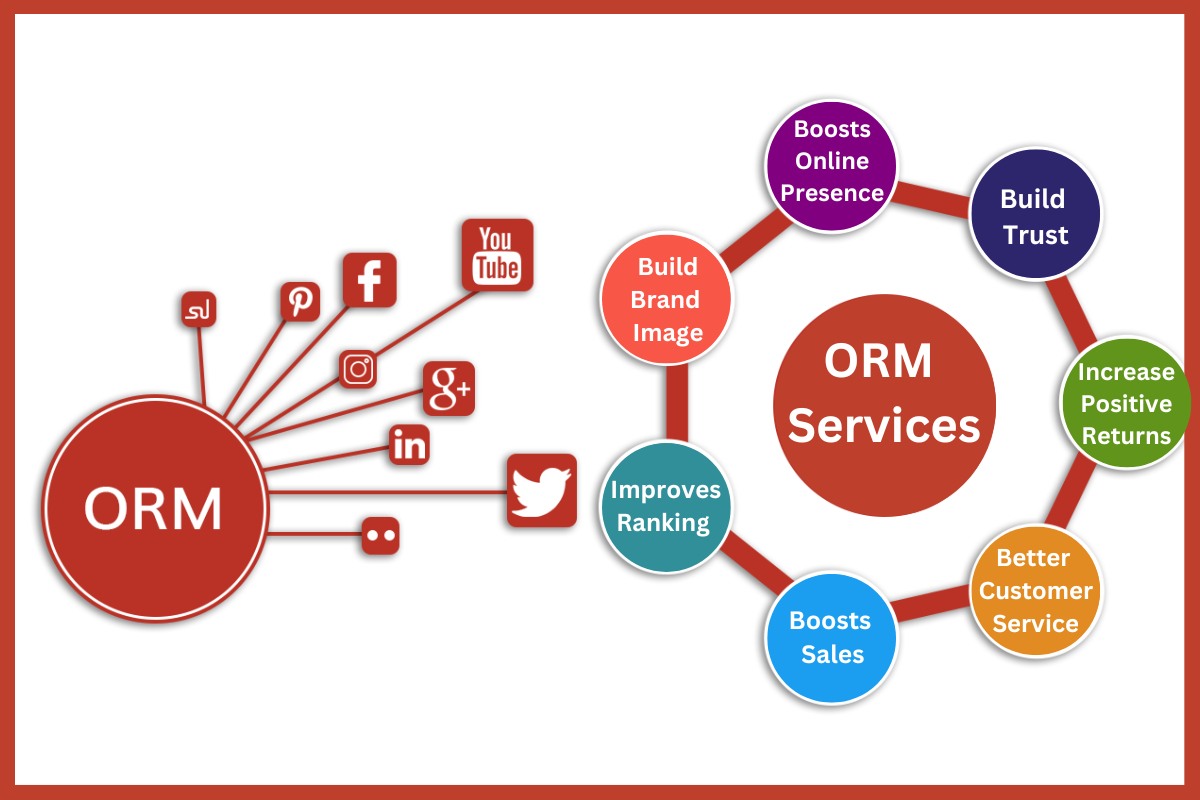 You will be surprised to know that 84% of customers trust online reviews as much as personal recommendations. Yes you read that, right? Whether positive or negative, online reviews can make or break your business. They reflect a company's online reputation. A negative or poor online reputation can wreak havoc on your business. It can result in customer loss, financial loss, and even can shut down business operations. 
While a positive or good online reputation can boost your business growth and can result in greater profits. One of the best ways to keep up with your 
business is through Online Reputation Management (ORM). ORM is an efficient way to make your business look better online. That's not all!
Keep reading the blog to know the meaning and benefits of ORM services.
What is Online Reputation Management?
ORM, short for Online Reputation Management is a vital marketing tool to build and maintain the online reputation of any business whether small or large. It also helps to improve the poor online reputation that is due to bad reviews.
A good online reputation is very important for any business to survive and thrive in this competitive landscape. It is essential to have a positive business image to help your business grow and expand. The online reputation depends on various factors like quality of the content, website, and customer services to name a few.
The ORM services can help businesses work on negative aspects and improve where needed. There is a lot more than that. Let's find out some of the benefits of ORM services.
Benefits of ORM Services
Whether small or large, no matter the type and size, the main motive of every business is to get huge sales and revenue. In this digital world, more and more customers tend to shop online. However, with a plethora of businesses available on the online market, it can be hard for customers to choose the best option.
This is the reason why most customers check online reviews to choose the best  brand from a pool of options. Businesses with positive online reviews tend to attract potential customers more than businesses with a negative image.
ORM services help businesses to keep track of every positive or negative review, which eventually can boost sales and the company's growth.
One negative online review is more than enough to tarnish the reputation of any reputable business. Not only that. It can leave a bad impression on your potential customers for quite a long time. However, an effective online reputation management strategy can help businesses build a strong and positive brand image.
It allows you to regularly monitor and track customer response, content quality, and website to save your brand from all negative consequences.
Every business strives hard to improve visibility on the internet and stand out in the competition. There are many marketing tactics to boost brand visibility like posting high-quality content, SEO, and social media marketing.
However, it is important to manage and handle every day user activities on these marketing channels. Online reputation management can help businesses take note of these user activities and gain better online visibility. 
Be it social media platforms or a company's website, the internet allows customers to share their opinion on the company's service or product. Customers are more likely to buy a product from a brand that is trustable, has positive reviews, and repeated customers.
Building customer trust is imperative for any business. It can help you retain old customers and even get new leads through word-of-mouth marketing. This is why most businesses often look for ways to build the trust of their customers.
One of the best ways to earn customers' trust is by using an effective online reputation management strategy. It can help you avoid negative reviews, build your brand image, and earn customers' trust.
Customers are the biggest brand ambassadors of every business. Happy customers are the repeated ones. So, it is vital for any business to provide the best services to the utmost satisfaction of customers. 
The best you can do is respond to your customers in the best way possible. Failure to do so can result in the loss of potential customers. One of the benefits of ORM services is providing the best services to customers to make sure they are happy and return back. 
Let's Wrap Up
Apart from the above, Online Reputation Management can help businesses with a great long-lasting impression, positive media coverage, and improved customer credibility.
So, if you also want to take your business one-notch hire, get in touch with the ORM services provider—Reputation Savvy. From a wealth of experience to in-depth knowledge, and an expert team, the company has everything to provide you with the best Online Reputation Management services without breaking the bank. We provide reputation repair, bad links removal, negative feedback removal, and other ORM services. What are you thinking of? Get in touch with the team of experts today. Whether day or night, weekday or weekend, we are available 24/7 to help our clients in the best way possible. Connect us over a call, email, or chat.