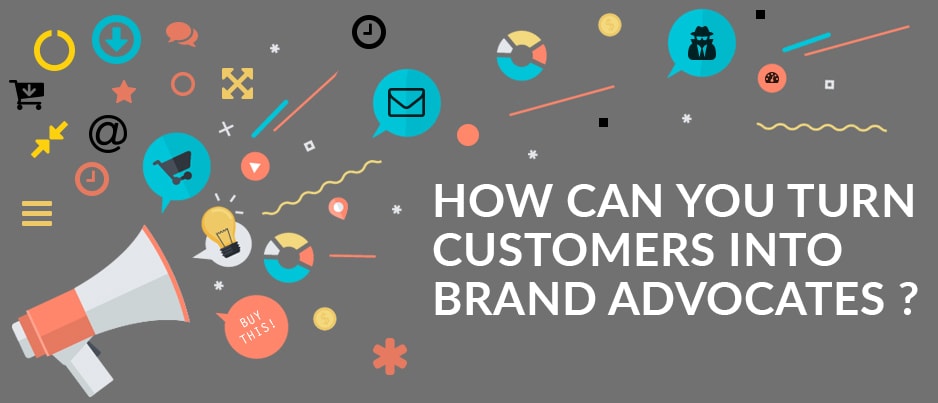 With the increased power of peer influence on social networks, it has become essential to comprehend how to turn customers into influencers.
The idea of Influencer marketing has become an effective way to reach customers because of the legitimacy that influencers have. If you are new to influencer marketing and not sure how to turn the customers into influencers, then you have come to the right place. Here, we will discuss everything that you should know about converting customers into the brand advocate. Let's get into more detail:
What is influencer marketing?
Influencer marketing is trending these days because it is a great way to get your product in front of the huge audience with an authentic voice. It is an approach that seeks to maximize the effectiveness of efforts by targeting individuals who have a large following. Instead of marketing directly to a large group of consumers, you pay influencers to speak for you.
Who are influencers?
An influencer is a social media user who has about several hundred to a million followers. These individuals have their fingers on the digital pulse of a highly engaged and loyal audience. And they promote your business through their own network of contacts. Furthermore, they drive conversation and engagement around a particular topic, discussion or niche area.
Why are customers the best influencers?
Directly paid advertisement and normal influencer marketing do have a role in getting brand recognition. And having customers your influencers plays a key role in developing trust and credibility among other people. Here, are some reasons why your customers are your best influencers:

Customers are walking Testimonials: Nothing can beat a real person giving a genuine testimonial in order to convince others. Moreover, it is more effective than seeing an ad. Influencer marketing is popular in its place. But when it is your patron, the genuineness is augmented.

 They are your target market: While paying a blogger or Instagrammer, you are hoping their audience is your target market. When you utilize your clienteles, they have already revealed that they are your target. And there is a chance individual they interact with every day will be too.

 Patrons reach is beyond their phones: It is difficult for online businesses to tap into offline conversations. And when you make a consumer so excited about your product or service that they are voicing about it offline, you can grasp more people.
How can you turn customers into influencers?
The consumers are already enthusiastic to refer a brand or product but they cannot until they get an opportunity to do so. It's your responsibility to provide them the avenue to share their experience. And, how do you do it? How can you turn customers into influencers? Let's have a look:
1. Provide Customers a Platform to Express Their Thoughts:
If you want your consumers to act as influencers, you should give them the opportunity to become your brand advocate. Actually, the customers who like your product will obviously want to talk about it. And providing them a platform to do so is a great way for you to reach your target market.
One of the best ways to do this is by creating a call to action in post-acquisition interactions. This will increase the chances patrons share their experience with your product or service. Showing them that their feedback matters, you encourage them to take the time to share their thoughts.
Furthermore, it is also good to share customer content on your own website or social media pages. This not only shows them their significance but also an organic way to show others what your current consumers think about your product.
2. Integrate Influencers Messaging in Existing Communications:
Obviously, you are already communicating with your customers on a regular basis. Am I right or not! If not, then start using communication methods like pop-up contact forms, thank you emails in order to tell your consumers how they can become an influencer for your brand.
It is a cost-effective way to reach prospective consumer influencers since you are using a system that is already in place. Building a personal relationship is also important because you do not want your customer just acts as a face of your brand. This allows you to find their interest in your service. Also, you can determine if they would act as a good advocate for your brand.
Having a good rapport with your customers also make them feel valued and they will be more enthusiastic to help you and promote your brand.
3. Offer Incentives That Are Useful to Your Customers:
It's common that customers talk about the product they love. However, it can take a bit of push for customers to voice their thinking or share experience.
Fact is, 83% of customers are enthusiastic to refer a brand or service, but about 30% seems ready to refer.
Here, the referral incentives play a crucial role. You offer rewards to your customers when they refer others to your company. With each consumer it's different. You can reward customers on the basis of how many people they have referred. There are a lot of ways to incentivize your customers but offering discounts, free merchandise, sweepstakes are among the best ways to do so. Your consumers already love your product and allowing them to avail more at a low price is a great way to compensate for their efforts.
4. Use Loyalty Programme:
There is a lot of loyalty programme that allows you to set up rewards for consumers who refer their friends. Here are some things to look for while picking a loyalty programme.
Let you know who your top referrers are.
Allow you to give a point of sharing.
Have a referral programme.
Moreover, you can emphasis on beginning a brand ambassador programme, where you get extra VIP perks such as swag and exclusive content for individuals who sign up and evidence they have persuaded their networks to join.
Wrapping Up
Today, customer influencers have become a cost-effective way of promoting your brand or product. Almost half of your customers willing to share their experience with your product. Hence, it is necessary for you to provide them the platform to speak their thoughts. Following the above said ways you can turn customers into the influencers. Hoping these tips will help you reach your business goals.
In case you want additional assistance, Reputation Savvy team can help you. The experts at this company can develop a website that is attractive, work as it should and give meaning to your brand. So, if you are interested in help with online reputation management, search engine optimization and want to learn more about customer retaining, get in touch with Reputation Savvy team.