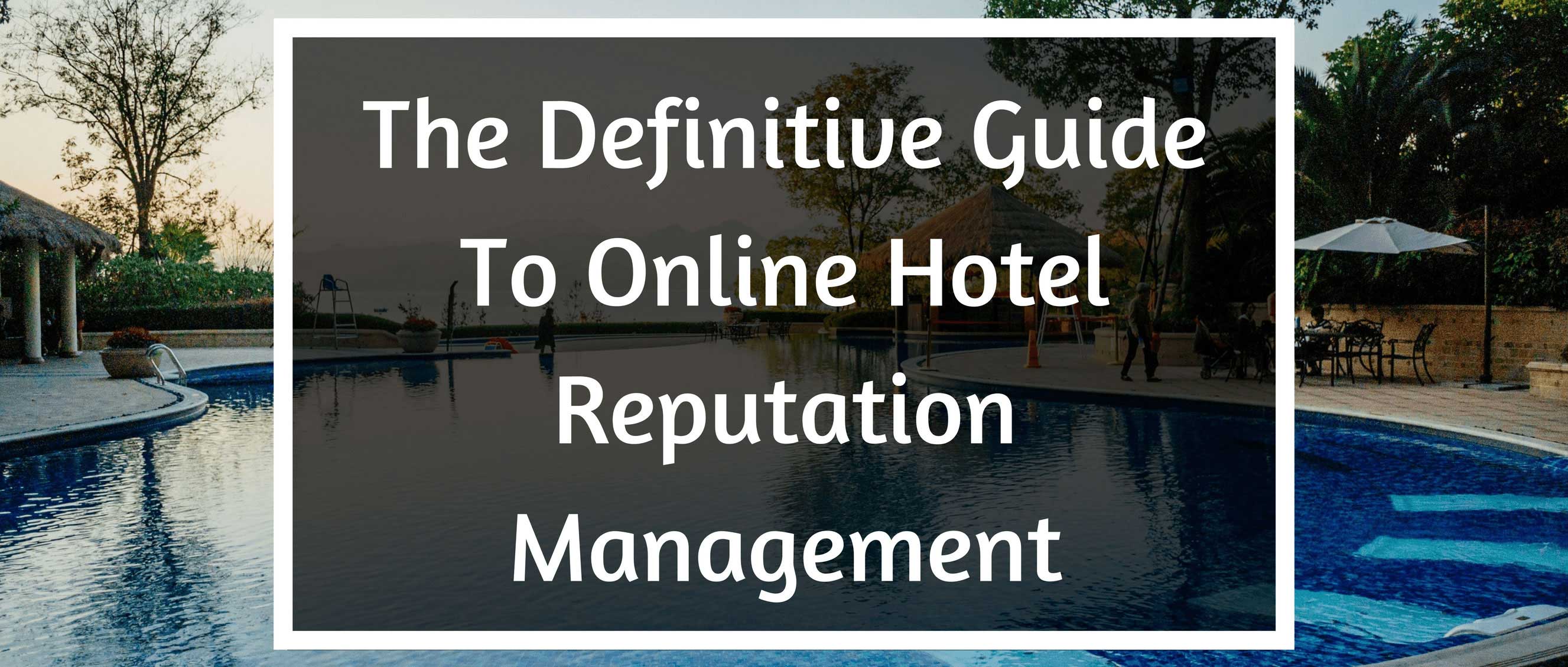 Everyone has right to express their thoughts and expressions about any brand or service. Happy customers will praise you. And individuals who are not happy with your product or services have the freedom to talk about you online.
Are you serious about your hotel reputation management? With the focus shifting towards online review sites and social media platforms, the repute of your hotel is no longer wrought by traditional offline media and marketing. Hence, you should know how to protect it.
In this article, we will discuss what online reputation is and why it is necessary for business owners. Along with this, you will also get some tactics to build and protect your hotel's image.
Let's start with what is online reputation
In order to protect your business reputation, you should know what exactly online repute management is. Online reputation is all about how you are apparent publicly.
Your business reputation is yours. Hence, you must have the ability to build reputation management for hotels tactics.
Usually, we can divide online repute management into following steps:
Know what people saying about you online.
Improve your hotel's online reputation.
The above two things together help you protect your hotel business against any crisis.
What is the need for good online reputation?
Your reputation on different online platforms drives community opinion about your business or services. Obviously, when people want to book a room, they consider what people say about your services.
If an individual says great things about you on social media, you will get the continuous flow of booking. However, if people find negative hotel reviews, they start looking for another alternative.
Following statistics prove it:

Approximately 92% of people across the world say that their hotel booking decisions are impacted by online reviews.
And 51% travelers write a review of accommodation after a trip.
Up to 50% of individuals will not book hotels without reviews.
From above points, it is cleared that hotel reputation management is a crucial and unavoidable aspect in hospitality businesses.
What happens if your Hotel reputation is not good?
Online reputation these days has become the powerful driver of revenue and growth. Your business reputation has the direct impact on revenue and sales. Because of an enormous evolution of social media and Internet, no online presence means no long survival.
Why reputation management for hotels is important
A lot of information is available for buyers online these days. Regardless of any industry, there are guides, reviews, and videos in order to help customers make a decision. And today's customers rely on reviews more than your hotel website.
Generally, individuals travel to the unknown location and spend a lot of money. That is why they look for more information before submitting credit details. Therefore, reputation management for your hotel is important.
How to master your hotel reputation management
Start with searching your hotel name on the search engine. Notice what your search show to you. This is how you appear online to your customers.
Moreover, figure out where you need correction. You should create a hotel advertising and branding plan in order to build the foundation of your online visibility.
Online Reputation Management: 8 Powerful Tips (Updated for 2018)
The most crucial asset of the business is its online reputation. If it is dimmed then the businesses can lose their customers, sales, and even employees too. So, the business owners should use the online reputation management strategy in order to manage their reputation.
Here's how you should start:
Monitor reputation on regular Basis: Obviously, you want to know what people are saying about you. To do so, you have to espouse a proactive approach in order to monitor your reputation. Make it a daily habit. Moreover, look for filter social services, influencer opinions and more.
Present on all online review platforms: Customers can post reviews on sites such as Yelp, Facebook, Instagram, Google and more. You have to present on these sites for online reputation management. Also, create social media profile in such a way that rank higher in search engine algorithm.
Check reviews on online travel sites: These reviews are different than reviews on your hotel website or social media. Because reviews on online travel sites are verified and reliable. Thus, no individual can give a false review about you. Plus, do not forget to check and reply these reviews on regular basis.
Be firm on illicit attacks: Some people tend to spread wrong information about others. You should firmly combat if you come across such situation. Also, ensures you take essential measure to prevent them and stop them from doing it again.
Respond to reviews: You have to respond reviews quickly and politely. The late response to reviews might lose value. In order to catch all the reviews, you should invest in hotel reputation management tools or services.
Learn from mistakes: Have you ever received negative guest reviews? If yes, you can stop such reviews by providing quality services. You should make sure your customers have a pleasant stay at your hotel and your staff deliver them the best services.
When guests leave your place, you should ask them to review your services. If your customers are happy with services, definitely they will spread it by words of mouth.
Take Action: You should share feedback with your staff. Use negative review as a constructive learning tool. Use guest feedback to improve services and upgrade capital. Create a hotel reputation management strategy and train your staff members to follow it.
Measure Performance: You have to benchmark your performance against competitors within your region.

Make a chart of your ranking and rating improvement.
Keep track of guest satisfaction statistics.
Find out the number of prospective customers you are receiving as a result of your hotel advertising.
Figure out who is reviewing you and where.
Maintain little response time.
Wrapping Up
In this technologically advanced world, where industry lives or die by star rating or online reviews, make reputation management a priority. You should keep track of your hotel rating on different review sites. Furthermore set your objective where you want to be.
Assimilate the above points in your hotel reputation management plan and you will see an increase in customer's gratification. And this leads to an enhanced reputation of your hotel.